AN EXTENSIVE INVENTORY OF NEW, RECONDITIONED AND REMANUFACTURED PARTS
Our parts are directly sourced from original equipment manufacturers (OEM), and work according to factory specifications. With reliable quality, downtime is reduced and equipment runs longer. Our genuine OEM stock includes parts for container handlers, warehousing equipment, forklifts and more.
Toromont Material Handling also offers at a very competitive price a wide selection of reconditioned and remanufactured parts with same-as-when-new standards from major brands like Caterpillar, Mitsubishi, Jungheinrich or Kalmar.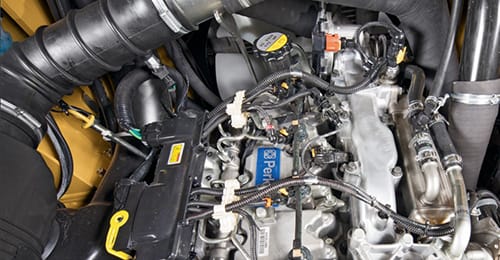 Your One-Stop Shop for Material Handling Parts
Don't wait for your lift truck parts! With more than $1.5 million worth of in-stock inventory and a quick turnover, you can get your material handling equipment back to working order in no time!

A Team of Highly Qualified Experts.
Our remanufactured parts passed rigorous same-as-new safety inspections by certified technicians in cutting edge laboratories.

Go Greener With Remanufactured Parts
We do our parts for the environment and so can you while saving money: our remanufactured components offer same-as-new performance and reliability at a fraction of the cost of new parts. We also take back your used parts for a credit, and give those components a new life in a remanufacturing centre, avoiding landfilling (conditions apply).

Your One-stop Shop for Material Handling Parts
We're committed to offering the best over-the-counter availability in the industry.
We use a regional stocking philosophy that puts the part you need where you need it. The parts inventories of all Toromont Material Handling locations, plus our US depots, become one huge supply source.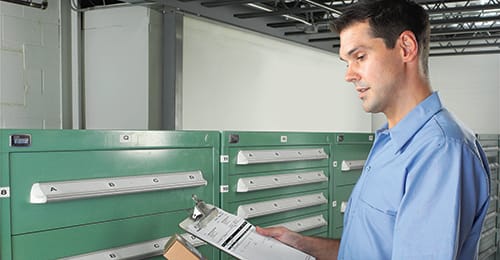 Cat® lift truck parts are designed and manufactured to work as a system and meet the unique demands of your Cat® Lift Truck.
High quality materials, carefully controlled manufacturing processes, and the industry's most rigorous testing help Cat replacement parts deliver maximum performance and value over the life of equipment.Cat® Lift Truck parts are backed by industry-leading warranty and support.
The Promatch® parts program, available exclusively through your authorized Promatch® dealer is designed to be your single source for reliable replacement parts, no matter which forklift brand you operate. With thousands of part numbers, crossing to millions of applications, we have the parts you need to service your entire fleet.

A team of highly qualified experts.
Our Parts Specialists will help you get your equipment back up and running in no time.
The Parts Department at Toromont Material Handling is your one-stop source for millions of replacement parts and accessories.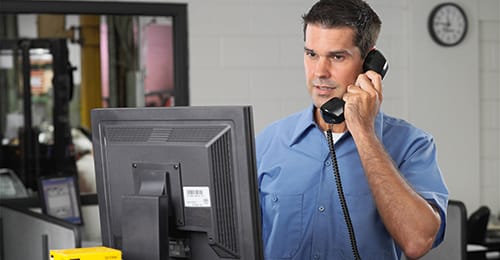 Our parts will fit nearly every brand and model forklift, mobile elevating work platform and other material handling equipment.
Our Parts Specialists have an extensive knowledge of parts for material handling equipment and are ready to help weather you know what you need or require some support identifying what you should order.

Go greener with remanufactured parts
When it comes to remanufactured components, the details count.
Our remanufactured components are completely disassembled, cleaned, and inspected for core integrity. Worn-out parts are replaced with new. Critical parts are balanced, tested, and replaced, if necessary, to guarantee continuity, peak performance and long life.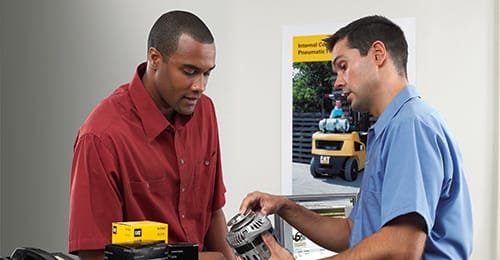 Even though most reman parts look the same, they aren't always what they seem. The difference is in the details. Cat® Lift Trucks and the Promatch® parts program offer quality remanufactured components for all makes and models of lift trucks, along with comprehensive program benefits for you and your customers.
Our program is more than repairing or reconditioning. Each component is remanufactured using the latest techniques, backed by the same warranty as our new parts. When you choose a Cat® Lift Truck or Promatch remanufactured component, you're choosing a product that's been completely cleaned, remanufactured, inspected and tested.
With same-as-new performance and on-the-shelf availability, you can get back to work quickly.
GET MORE VALUE OUT OF YOUR PARTS INVESTMENT.
To learn more about OEM or reconditioned parts, contact us using the form below.